Share this URL: http://sgshorts18-day1.peatix.com
Event is FINISHED
Singapore Day/Night: Selections from the Asian Film Archive Collection - Day 1
In the inaugural edition of Singapore Shorts, the Asian Film Archive (AFA) pays tribute to Singapore's pioneer independent short film maker Rajendra Gour. The AFA has been preserving Gour's films and recently restored his short film
Sunshine Singapore
(1972). Through his film, Gour captured the collective uncertainty of a nascent Singapore, tempered with a lyrical optimism.
The rest of this programme takes up where
Sunshine Singapore
left off, featuring Singaporean short films from the Asian Film Archive Collection that are squarely rooted in the midst of early 21st century everyday life and grapple with deeply local narratives - revealing a frank, occasionally comedic, but altogether intimate portrait of the island in all its shades.
Visit the main page here:
singaporeshorts18.peatix.com
Programme details:
Friday, 13 July
7.30pm - 9.30pm
Gallery Theatre, National Museum of Singapore
Free admission with registration
Please check film ratings before registration. For films with no ratings at the date of print, please check updates online before registration.
About the films:
Sunshine Singapore (1972, 7 min, PG)
Rajendra Gour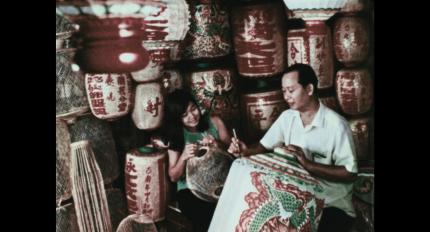 Sunshine Singapore
pairs lurid, dream-like visuals of 1970s Singapore with music which leads the viewer through a variety of moods; oscillating between the languid and exotic, to the unfailingly upbeat - embodying the contradictions of a nation on the cusp of modernity. In a departure from the detached quality of black-and-white archival footage, Gour offers a hopeful imagination of Singapore then and showcases his playful infatuation with its urban environment. A 4K restoration of
Sunshine Singapore
was made possible using the surviving 16mm film print preserved by the Asian Film Archive, and restored by Cineric Inc. in 2018.
Rajendra Gour was born in 1940 in the small town of Dhariwal in Punjab, India. After his graduation from the Film Institute of India, he came to Singapore in 1964 to work as a senior film editor at Radio and Television Singapore (RTS). After saving up enough money for equipment and film stock, he purchased a 16 mm film camera and learnt how to use it.
His first film, Mr. Tender Heart was completed in 1965 and was screened at the Commonwealth Film Festival, London. He made three more short films - Eyes (1967), Sunshine Singapore (1972), and A Labour of Love - The Housewife (1977). Gour also wrote an original story and shooting script for Cathay-Keris Films and the theatrical feature Aku Mahu Hidap was made in 1970.
The Girl in Red Sarong (2007, 14 min, PG)
Jeremy Sing


The
sarong kebaya
is the hallmark of the quintessential Singapore Girl, a perfectly manicured symbol of Singaporean femininity. The main character in Jeremy Sing's film, however, is anything but. With a comedic desperation reminiscent of silent cinema, the girl in red sarong scrambles through familiar landscapes, from the heartlands to the city, on the hunt for odd jobs to scrape together her overdue rent.
Jeremy Sing is the founder and editor of SINdie, a website on Singapore films. Through SINdie, he has written extensively about local shorts and feature films and interviewed numerous filmmakers. He juggles his film and film-writing commitments with his full-time job as a public relations consultant and his short films have been screened at local and international film festivals.
Home VDO (2000, 12 min,
NC16 (Some Coarse Language)
)
Eric Khoo
"
Chewing gum is banned here and they fine you for littering and even if you don't flush the toilet. That's why this country doesn't have any crime
," narrates an American tourist, filming Changi Airport's control tower receding into the distance. Minutes later, his camcorder is stolen by a Chinese teenager who immerses the viewer into a world of petty crime by creating his own idea of a "home video". Eric Khoo's short film parodies prescriptive tourist cliches and contrasts popular portrayals of Singapore with an unfiltered alternative.
Award-winning filmmaker Eric Khoo is the first Singaporean since the 1990s to have his films invited to major film festivals such as Berlin, Venice and Cannes. He was awarded the Chevalier de I'Ordre des Arts et des Letters in 2008. His feature My Magic (2008) was nominated for the Cannes Palme d'Or, and his latest feature, Ramen Teh (2018), had its world premiere at the Berlin International Film Festival.
Not Here (2008, 15 min, PG)
Carol Ho and Teo Mei Ann
Two white-collar workers make a break from their claustrophobic office to engage in a passionate tryst, but their search for uninterrupted physical intimacy appears fruitless. Driven by longing, the wordless glances between the leads in
Not Here
expresses frustrations toward space, belonging and privacy in modern day Singapore.
Carol Ho was born and raised in Singapore and is currently based in the United States. She is the producer, director and/or editor for a wide array of projects, spanning narrative films, documentaries and film marketing content. She has also worked as a post supervisor in the Hollywood film marketing industry, overseeing the post-production completion of various film-marketing campaigns.
Curry Fish Head (2014, 7 min, PG)
Srinivas Bhakta
On the way home from the market, a young girl stops to play a game of hopscotch - inadvertently falling down a hole which reveals her entire future. Plunged from her sepia-toned reality into an uncertain future, she embarks on a journey of change and loss.
Curry Fish Head
explores the vicissitudes of modern life as well as relationships between the individual and the national, past and present.
Srinivas Bhakta is a graduate of the National Institute of Design, Ahmedabad, India and currently works as a Senior Lecturer at the School of Interactive & Digital Media, Nanyang Polytechnic where he teaches animation and design related subjects. His animation short films have been shown at international film festivals such as Annecy International Animated Film Festival and the Hiroshima International Animation Festival.
Passenger (2006, 18 min, PG)
Green Zeng
An old woman wishes to return to China to await her death. En route to the airport, she requests for the driver to take a detour through the city, bidding a final farewell to familiar roads and spaces.
Passenger
is a visually understated, yet heartfelt love-letter to memory and the processes of rediscovery and remembrance.
Green Zeng is a multi-disciplinary artist and filmmaker whose current practice explores concerns related to historiography and identity. He has directed many short films that were screened at film festivals such as the Cannes Film Festival and the Singapore International Film Festival. His first feature film, The Return, was selected for competition at the 30th Venice International Film Critics' Week in 2015.
Artificial Melodrama (2011, 15 min, PG13 (Some Coarse Language))
Giovanni Fantoni Modena

A self described "tilt-shift therapy", Artificial Melodrama contemplates the phenomenon of alienation in a globalised society. A harried actress hails a taxi to return to her hotel, but fails to remember the hotel's name, attributing her forgetfulness to the homogeneity of modern cityscapes. Awash in a backdrop of neon lights, the taxi driver sets out to not only send her home, but also convince her of the distinctive character of Singapore.
Giovanni Fantoni Modena was born in Milan in 1984. He holds a Graduate Degree in Philosophy of History and a Master of Fine Arts in Film Directing from New York University Tisch School of the Arts Asia. He frequently collaborates with advertising agencies including Ogilvy & Mather, Grey, and Fred & Farid, and has directed commercials for Coca Cola, Samsung, and Air France.
----------------------------------
----------------------------------
---------------
All screenings are held at the Gallery Theatre, National Museum of Singapore.
Please check film ratings before registration. For films with no ratings at the date of print, please check updates online before registration.
About Singapore Shorts '18
The inaugural edition of Singapore Shorts '18 is an annual showcase celebrating the best and the most promising local short films in Singapore. A critical platform for excellence and diverse thought in moving images, the selection will be overseen by a panel of respected professionals across Singapore's film industry.
Alongside screenings of the selected cinematic works, the programme will also feature post-screening discussions with the filmmakers, dedicated reviews from critics and a special section of older titles from the Asian Film Archive's collection.
Singapore Shorts '18 will be held at the Gallery Theatre, National Museum of Singapore from 13 - 15 July 2018.
read more
Fri

Jul 13, 2018
7:30 PM
-
9:30 PM
SGT
Add to Calendar
Venue

Gallery Theatre, National Museum of Singapore
Tickets

| | |
| --- | --- |
| General Admission - 13 July, 7.30 - 9.30pm | FULL |
Venue Address

93 Stamford Rd, Singapore 178897

Singapore
Organizer
Want to find more groups and events like this?